If you're a fan of sports or sports accessories, you're likely at least aware of the impact of the Nike brand on the sporting landscape. Some of the world's most recognizable athletes in every sport you can think of where Nike shoes, shirts, and accessories both during competition and when just lounging around. The Nike swoosh is one of the most iconic logos in history, and you're unlikely to go to any sporting event either professional or amateur and not see the swoosh adorning one of the athletes in some way.
When it comes to the Nike brand imprint, you're probably familiar with their lines of shoes and active wear garments. However, did you know that Nike also makes sports watches? While Nike's dalliance in the watch game is relatively new and hasn't yet made a huge impact globally, the watches which they've lent their imprint to are some of the best smartwatches and sport time pieces currently available.
While Nike has not committed to a long-term plan in the watch industry, they don't look to be going away anytime soon. With licensing deals in place which will tie the brand with some of the most beloved smartwatches available, we wouldn't be surprised to see Nike completely define the watch industry landscape given time.
Let's start our dive into the world of Nike watches with a look at the three different models currently available for sale.
3 Nike Men's Watches For Sports Enthusiasts
Nike+ Sport Watch
While the Nike+ Sport Watch is definitely not the most well-known of Nike's watch offerings, it's definitely worth checking out for those with active lifestyles who also have a love for the company's aesthetic. It's an especially fantastic investment for runners with trackers in place for pace, calories burned, and distance covered. It also has an accurate heart rate sensor which can alert you to when you need to push harder and when you need to cool off a bit. That's not all for the data tracking capabilities of this cool little smartwatch. It can also do things like detecting the elevation and cataloging the routes you've taken as a runner.
Nike also partnered with TomTom GPS for a GPS tracking experience that rivals some of the best smartwatches currently available for sale. This watch also a real example of the company's dedication to innovation. The best example of that is the watch band which can also be used as a USB plug to both charge it and sync data. The Nike+ Sport Watch does have its detractors, but it's definitely a really unique and worthwhile smartwatch which may be a sign of better things to come.
Apple Watch Nike Series 5
The second installment of Nike's smartwatch partnership with Apple, the Apple Watch Nike Series 5 is our pick for the best Nike watch out there right now. A big part of that has to do with our love for the Apple Watch Series 5 itself. As close to a perfect smartwatch as you're going to find, the Apple Watch Series 5 doubles as both a fantastic workout tracker and a smart device that can do everything from play your music to alert you to scores from your favorite sports teams.
There are a ton of added features included in this watch such as fall detection, an internal emergency calling system, optical and electrical heart sensors, a fantastic digital compass, and an ECG application. The addition of the Nike swoosh is definitely a really cool and minimalist stylistic touch that aligns with the design trademarks of both brands. If you love Apple peripherals and can't get enough of the Nike brand, this smartwatch is a definite match made in sporting heaven.
Apple Watch Nike Series 3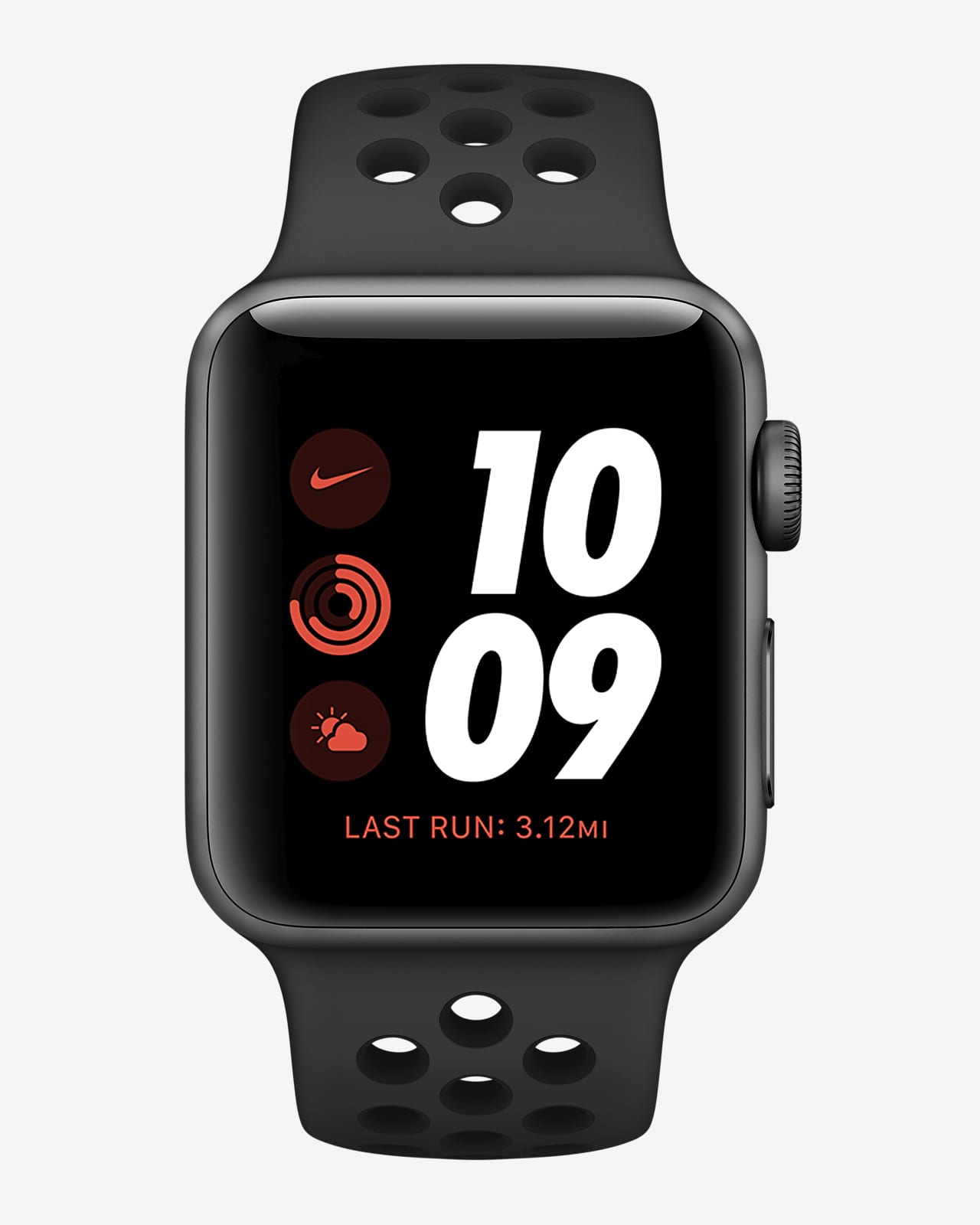 If you're looking for a cheaper alternative to the pricey Apple Watch Nike Series 5, we present to you the Apple Watch Nike Series 3. While it doesn't boast the same app connectivity or array of features as the newer Series 5, it comes with a much more agreeable price tag and still has plenty to love for both sporting enthusiasts and Nike lovers. The interface has the distinct feel of Nike's branding efforts and the sleek look of this model makes it a favorite of some over the Series 5.
As for the features this watch does include, there are definitely plenty. The Apple Watch Nike Series 3 comes with built-in GLONASS and GPS systems, a gyroscope, a really well done heart rate sensor, 18 hours of battery life, a barometric altimeter, and an accelerometer. It's also water resistant to a depth of 50 meters and boasts fantastic durability with Ion-X glass protecting the screen. You can choose between a sleek black Nike strap or a bold crimson red Nike band, each accentuating things in a really cool way. For Nike enthusiasts looking for a smartwatch on a budget, this is a great option.
Learn More About The Brand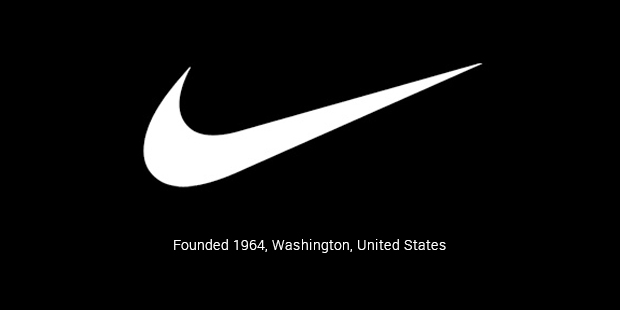 Originally founded on January 25, 1964 by Bill Bowerman and Phil Knight in the State of Oregon within the United States, Nike was originally known as Blue Ribbon Sports. Seven years after the company's inception, Blue Ribbon Sports rebranded itself as Nike in tribute to the Greek goddess of victory. And when you see just how successful their business plan ended up becoming, such an association makes perfect sense.
Now the world's largest supplier of athletic apparel and sneakers, Nike has gone from a small company in the Pacific Northwest of the United States to one of the most well-known brands in the world. A big part of Nike's branding strategy is their sponsorship of some of the world's most beloved and recognizable athletes. Sponsorship deals with legends such as Michael Jordan and Tiger Woods have raked in billions of dollars for the company and have also raised its equity in the public eye to heights unseen before them.
The Nike brand has diversified itself into many areas, including an exclusive and lucrative partnership with the University of Oregon. As of 2010, the value of the Nike brand is currently estimated at $34.8 billion. That's a two billion dollar increase over its value in 2019. Nike also ranks 85th on the exclusive Fortune 500 list and is constantly listed among the most influential brands in sports and culture year to year.
With this kind of success in their back pocket and their present dealings, it would be asinine to write off Nike as a bit player in the watch game. You can never count out Nike with their immense resources and acute eye for branding, so don't be surprised if Nike begins to diversify their watch offerings and finds themselves in the driver's seat when it comes to sports watches and related accessories.
Frequently Asked Questions
Where can I buy a Nike watch?
In truth, Nike watches are a bit hard to find in normal online marketplaces. The Nike+ Sport Watch is listed on some major websites but without stock, although you can find it if you search the Nike website. As for the Nike Apple Watches, those items be found at this link on Apple's web page. While you can find listings elsewhere for these three sport watches, your options are kind of limited when it comes to procuring them right now. You'll either have to look for something on a resale website or filter out the middleman and go straight to the web page of the brands themselves.
Options are limited for customers with a desire for a Nike time piece, so head over to their page or Apple's website for the best results.
Where can I buy sports watches?
Sports watches definitely are not hard to find. If you're looking for quality results from your search for sports watches, the United States in particular has plenty of department stores teeming with sporty watches in their cases. But, it's not just the United States. Sports watches have made an impact around the globe, and you can find them at different price points throughout shops around the world.
In addition to brick-and-mortar retailers, your options are wide open when it comes to finding these watches online. Whatever brands you're into and whatever products you have your eye on, the items you're looking for are likely to be available in the listings of your favorite online marketplace. Watch brands also deal with their customers directly, so you can always go to a brand's page and consider buying a watch directly from the source.
Whether you're looking for a smartwatch with GPS capabilities and app connectivity, or you just want a great quartz watch with good battery life at a fair price, customers would do well to scour the results of their favorite online marketplaces and brands to filter out what they don't want in favor of what they do.
Closing Thoughts
While Nike watches sport beautiful design quirks and the iconic Nike logo, they still haven't fully taken hold of the watch industry just yet. However, agreements with brand behemoths like Apple and quality time pieces worth buying make Nike a brand to watch in watches.
There's something about Nike which connects with people, and these time pieces are a perfect example of that. Nike lovers have nothing but great things to say about the watches profiled above, and it's not just bias. They're great time pieces.